Parts of Cantilever Gate Systems
Cantilever gates are unique from other gates because they don't roll on the ground, instead operating using rollers positioned at the top and bottom of the frame and moving in a sliding fashion. When installing a cantilever gate, it's important to ensure your installation surface area is level. If there is any gradient, it will affect the cantilever gate's ability to slide smoothly and to stay open or closed. A single-track setup can be used when installing a cantilever gate with an opening of 27' or less. A double track setup is the best fit for gates larger than 27' or decorative gates that feature solid or semi-solid fill. In such setups, one track is placed on each side of the gate at both the top and bottom. Below are helpful diagrams explaining each part of a cantilever gate, as well as links to our cantilever gate parts that you can use to find the right part for your application.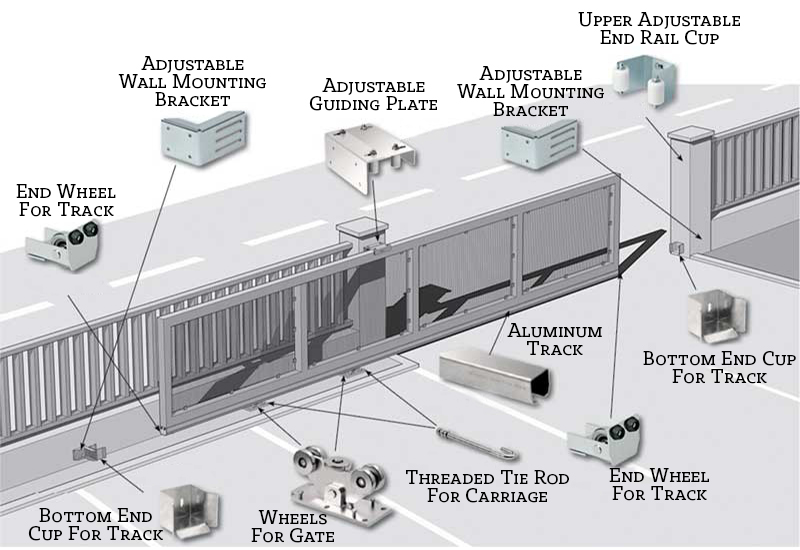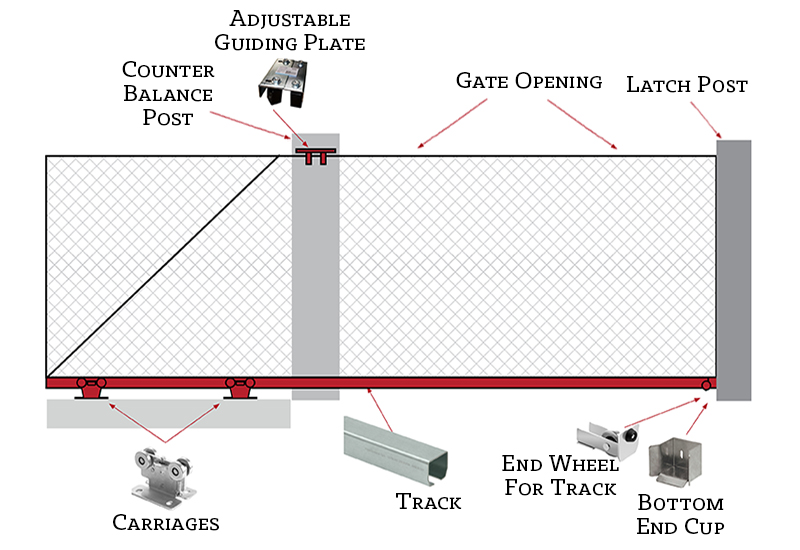 Anchoring and Installation Accessories - Having a solid, well-anchored foundation for a cantilever gate is essential. With our anchoring accessories, including tie rods and foundation plates, your gate will have the strong, reliable base it needs.

Carriages - Carriages allow a cantilever gate to slide through a rolling action, opening or closing smoothly.

End Cups - End Rail Cups accept and hold the end of a cantilever gate, keeping it fixed in place as the gate is closed.

Guiding Plates - Guiding Plates help ensure that a cantilever gate remains on the proper path as it opens and closes.

Rollers - Rollers rotate, creating the motion and transferring the force necessary to open or close a gate.

Tension Bars - Tension Bars are used to make minor adjustments when a cantilever gate loses tension and begins to sag. They help restore proper tension within a gate system.

Tracks - Tracks are the pathways along which a cantilever gate moves. They are designed with a C-shape whose opening is positioned on the side where the gate will pass.